BY LAURALEE MOSS
Starting First Chapter Friday in your middle school or high school language arts classroom? You won't regret it! Starting First Chapter Friday requires no special tools, only students and a high-interest book with a dynamic first chapter. Implementing First Chapter Friday is simple. You have a few decisions to make concerning how you will implement the process in your classroom, but the actual activity is simple.
Before Starting
First, choose a book that students will want to borrow. (If you are looking for a First Chapter Friday book, I have ten listed below.) Then, advertise the book to students before Friday. This can be a pretty note on your board, a posting in your digital classroom or the title on your letter board.

Research the book and the author. You will not only want to decide if the book will fit your community, but you will also want to find tidbits about the author that will interest students. Find the author's social media channels or a clip from an interview. One of the beautiful benefits of First Chapter Friday is to connect literature to students' lives.

You can check out Follett's #FirstChapterFriday video list where the authors read the first chapter of their book!

Titlewave is also a great place to get more insight into a book you are considering. With professional reviews and Follett Tags to use, you'll be able to determine if it's a good fit.

Before Friday, decide when you would like to read to students. I read at the start of class so that our discussions don't get cut short. Finally, decide what procedures you expect of your students. I simply tell students that they will need to listen without their iPads or phones. I allow students to doodle if that helps them to focus.

On Friday
Start with running the procedures by students. I rarely explain procedures more than once or twice!

Then, introduce the book, almost like a book talk. I often show screenshots of Instagram or Twitter posts from my research about the author. Some teachers put a crackling fire on the overhead to set the mood.

Read the first chapter to students. Reading aloud with secondary students might seem odd if you've never done so, but students will enjoy it. As you finish, tell students they may borrow the book if they like it. Sometimes a conversation will start about the author or part of the first chapter. I place the book up front so students can see it, and then I start class. Simple!

Whether you're just starting First Chapter Friday, or have already done a few, you might still have questions. Below, I've included four benefits of reading aloud with secondary students.

• Expose students to new genres, authors, and books. Not every book will fit in our language arts curriculum. To get students interested in a variety of literature, we must purposefully show them what literature is available to them. First Chapter Friday allows a short snippet of a book, like an advertisement, to permeate. Often, older students read alone and flock to their comfort zones. By reading aloud to secondary students, you can introduce genres, authors, and books to expand students' repertoires.

• Help students explore themselves. Secondary students are still growing, and they are shaping their likes and dislikes with literature. For instance, most people probably know about romance and mystery novels. Do they also know about psychological thrillers, fiction novels in verse, humor, and magical realism? Are they aware their favorite musician and or comedian might have a memoir? These subgenres might reach more students.

• Build relationships with students. Reading aloud with secondary students will build authentic relationships. For instance, I have a huge set of students who adore Pendragon. I tried to read the first book, and I finished about half. But, I now possess an understanding of the book, can recommend the book, and can talk with students about the book! Because I listened to my students and experimented with what I read, I now have a tool for building relationships with students.

• Gain common prior knowledge. By starting First Chapter Friday, you and your students will have a communal baseline of prior knowledge. When writing literary analysis or studying a time period, your entire class now owns a starting point for discussion. Books do open new worlds, and after you read a few First Chapter Friday books, students will possess a starting point for discussions about other stories.

You'll find your own benefits of First Chapter Friday and your own routines. If you are looking for the perfect First Chapter Friday book, here are my top ten from last year.

10 Book Suggestions for First Chapter Friday

Girl in the Blue Coat by Monica Hesse
Historical Fiction/Mystery

I began the semester with Monica Hesse's book because its first chapter has history and mystery, making it a successful First Chapter Friday book.

Hanneke Bakker lives in Amsterdam in 1943 and works for the black market. She flirts away from a noisy German officer, avoids ground acorn coffee, and ponders a more dangerous task than selling lipstick. As I finish the first chapter, I tell students that Hanneke will encounter many requests, and then I ask students what people might request during World War II from a person who deals with illegal goods. They're hooked.


The Sun Is Also a Star by Nicola Yoon
Romance


The chapters in Yoon's book are relatively short, and each one varies between narrators. You can read for about ten minutes, and within the first few chapters, students will meet:

• Daniel, whose parents hold high expectations over him.
• Natasha, an undocumented immigrant about to be deported.
• Irene, who works for the United States Citizenship and Immigration Services (USCIS) and becomes interested in Nirvana (the band) because of Natasha.

Many students will want to borrow this book because of the beautiful cover, too.


Red Queen by Victoria Aveyard
Dystopian


Mare Barrow lives a poor life as a Red while she watches wealthy Silvers live elite lives. Not only do Silvers have luxury, but they also possess silver blood and special powers.

In the first chapter, readers meet Mare as she steals and pick pockets for her family. I can promise you engaging conversations and debate after the first chapter.


Dear Evan Hansen by Val Emmich
Coming of Age/Psychological
Many students are familiar with the music from the musical by the same name, so that provides a natural talking point to start this First Chapter Friday book.

During the first chapter, Evan writes himself a letter as a construction for talking to his psychiatrist. The first chapter is engaging, but to show students where the book is going, you'll want to read the book cover or give a synopsis. Evan writes letters, but a letter can be misplaced. When a classmate dies, the bereaved parents find a letter that Evan wrote to himself, but they believe their son wrote it to Evan.

Evan suffers from anxiety and has very few friends...and now he has a large choice to make as the bereaved parents ask him about his friendship with their son.


145th Street by Walter Dean Myers
Fiction

What students really like about any Walter Dean Myers book is his authentic and relatable writing style. His prose allows the reader to fall into the story.

In 145th Street, readers learn about a block of Harlem where strange events occur. For instance, in the first chapter, Big Joe (who is quite alive) throws himself a funeral. He simply wanted to experience everyone's sorrow at his passing before he passed.

All of the chapters have different narrators but the same setting. I like using this First Chapter Friday book because students have a familiar setting and dialogue throughout the book, but they experience different characters and perspectives. For students who might not be independent readers yet, they will find comfort in the familiar chapters of this book.

Plus, when students ask me to read aloud to them again, they often ask for more stories from 145th Street. Since the stories are all independent but familiar, students can pick up even if we haven't read from this book for weeks.


I Know Why the Caged Bird Sings by Maya Angelou
Memoir

Students will be interested in the prologue and the first chapter of I Know Why the Caged Bird Sings, but to help your presentation of the book to students, provide background on Maya Angelou. She was a dancer, actress, poet, and activist. By showing a quick overview of Angelou, you're bound to reach an assortment of students who identify with her.

At the start of her memoir, Angelou recounts her nerves as she forgets her lines at the front of church and how she wishes to be someone else. Her story and writing style are simply unmatched.


Just Like Fate by Suzanne Young and Cat Patrick
Romance


The main character, Caroline, is faced with a choice, and that choice largely deals with the overwhelm she feels in life as well as her crush, hence the tagline, "Caroline is at a crossroads."

After I set students up with that background, I explain the book's design. Chapters one and two are titled "before" and readers learn about the choice Caroline faces. Then, the subsequent chapters alternate between "stay" and "go." After readers learn about Caroline's choice, the book splits into what would happen if she could make both choices.

This First Chapter Friday book works well because students are often intrigued by the book's structure.


The Radius of Us by Marie Marquardt
Romance


Both Gretchen and Phoenix tell this story, so you might read the first two chapters. (They're short.) In chapter one, Gretchen has a severe panic attack, and readers learn that she is under medical care. In chapter two, Phoenix is an immigrant who has fled El Salvador.

The Radius of Us will spark discussion because Phoenix is escaping gangs and searching for his brother. This book will also work well for literature circles or independent reading.


Grenade by Alan Gratz
Historical Fiction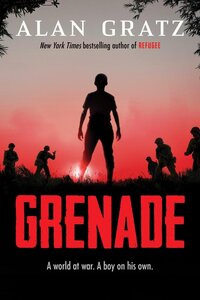 During the first chapter, the USA and Japan are at war. Young men are leaving school to become soldiers, and a lieutenant is handing them grenades.

Students are typically the same age as these characters, and they relate to the feelings shown through the deep conflicts. Finally, the last line of this first chapter is simply frightening, making this book an amazing choice for First Chapter Friday.


Unwind by Neal Shusterman
Dystopian/Science Fiction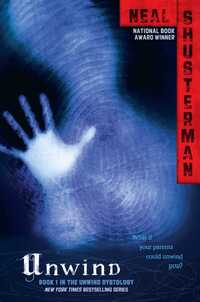 Parents or the state can decide to unwind their children for a variety of reasons. What is "unwinding"? Minors' body parts will be separated so that they are not technically dead because they will be living in other people.

Unwind follows three teenagers who will be "unwound." One lives in a state home that no longer has room for her. The second is a religious tithe, and he has known that he will be unwound his entire life. The third's parents believe he is a troubled teenager.

This book provided a fabulous discussion after the First Chapter Friday reading with secondary students. I introduced Unwind as dystopian but after hearing the premise and the first chapter, students disagreed and stressed that the book was science fiction. I pulled up different definitions and book reviews on my projector, and students compared Unwind to other books they've read.

If I hadn't read the first chapter to my freshmen, we maybe wouldn't have discussed Dune and Game of Thrones, or other science fiction and fantasy books. We wouldn't have explored Neal Shusterman's extensive awards and writing. Finally, we wouldn't have read more copies of Unwind than any other of my First Chapter Friday books.

Unwind was my biggest successes for First Chapter Friday books. I did not own enough copies, and my librarian ordered more for students. Then, she bought the rest of the series for our kids who fell in love with the premise.

Those experiences and conversations are part of the benefits of First Chapter Friday. Reading aloud to secondary students creates an intellectual and welcoming classroom environment. Grab a First Chapter Friday book and get started.

As you lend out your books to your students, make sure you have Follett Classroom Library Manager to keep track of them. Classroom Library Manager is a free web-based tool for teachers to manage and organize their classroom library. Learn more and sign up.
---
LAURALEE MOSS
Lauralee Moss has taught high school English in Illinois for over ten years. She holds a BS in English Education from Southern Illinois University and an MA in Teaching and Leadership. She blogs at LanguageArtsClassroom.com.

You can find her on Instagram and at home with her husband, three kids, and crazy dog.